Achievement
Partnership offers joint seminar series via video conference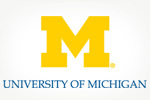 Project
IGERT: Incentive-Centered Design for Information and Communication Systems
University
University of Michigan at Ann Arbor
(Ann Arbor, MI)
PI
Education Achievements
Partnership offers joint seminar series via video conference
We continue to successfully integrate a partnership program at Wayne State University. In the past year, we had a weekly joint seminar series (via high-definition, large screen, uncompressed video conferencing) and four annual co-located events. We continue to build relationships and collaboration.

In September 2012, we hosted an orientation and welcome party at the PI's house where IGERT students and faculty from both sites interacted in an informal and warm environment. In the fall and winter STIET research workshops, STIET students from both sites presented their research in front of the faculty and students, which were more diverse than either institution could provide alone. The students appreciated the feedback to their research from an intellectually more diverse audience.
The weekly seminars mainly benefited our students and colleagues from Wayne State University, who would not have had the opportunity to attend seminars with such a wide array of world-class researchers.
SEE MORE: