Achievement
Transcriptional response to targeted treatment of DLBCL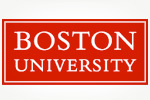 Project
IGERT: Integrating Computational Science into Research in Biological Networks
University
Boston University
(Boston, MA)
PI
Research Achievements
Transcriptional response to targeted treatment of DLBCL
IGERT trainees Heather Selby and Adam Labadorf authors of:

A. Labadorf, H. Selby, A. van der Velde, and S. Monti, A Novel Time Series Analysis of Transcriptional Response to Targeted Treatment of Diffuse Large B-Cell Lymphoma, Boston University Scholars Day Poster; 2013.

Diffuse large B-cell lymphoma (DLBCL) is the most common non-Hodgkin lymphoma in the United States. The focus of this project is the analysis of a large gene expression dataset consisting of a panel of DLBCL cell lines profiled at five time points before and after drug treatment. We developed a novel time series analysis to quantify the evolution of gene expression, and applied it in order to identify differential expression of genes, and enrichment of biologically relevant gene sets and pathways from publicly available repositories. We created a custom visualization tool to explore the various dimensions of our results at multiple levels of detail.
SEE MORE: