Achievement
Core course series restructured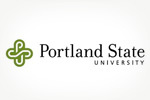 Project
IGERT: Sustaining Ecosystem Services to Support Rapidly Urbanizing Areas
University
Portland State University
(Portland, OR)
PI
Education Achievements
Core course series restructured
The ESUR IGERT core course series is intended to provide students with interdisciplinary training on ecosystem services supporting urbanizing regions- including ecological, social, geophysical and valuation aspects of ecosystem services. Feedback from our external evaluator (CIRGE) has led the core faculty to restructure the core courses to be on the cutting edge of interdisciplinary pedagogy.
To do so, we are now engaging 4-8 faculty members in each core course, and will be moving to a project based structure in the core courses with active engagement of the program's community partners.
To facilitate the modifications to our core course series, we have met with Bob Frodeman, an expert in the science and practice of interdisciplinary teaching and research. We have also secured funding to run a workshop for the IGERT faculty on interdisciplinary teaching and education, planned for Summer 2012.
SEE MORE: