Achievement
Courses taught by interdisciplinary teams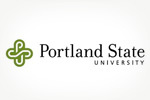 Project
IGERT: Sustaining Ecosystem Services to Support Rapidly Urbanizing Areas
University
Portland State University
(Portland, OR)
PI
Education Achievements
Courses taught by interdisciplinary teams
Courses developed and to be co-taught by interdisciplinary teams:
Ecological Concepts of Ecosystem Services: ecology of ecosystem functions. Taught by environ. science and urban studies and planning faculty.
Impacts of Social Policy & Management Practices on Ecosystem Services: examine social forces & institutions that influence use and guide policy for management of ecosystem services. Taught by sociology and public admin. faculty.
Dynamics of Ecosystem Services: evaluate changes in ecosystem services using conservation ecology, economics, environmental engineering, environmental sciences, and geographical and spatial sciences. Taught by geography, environ. science and engineering faculty.
Ecosystem Service Valuation: An Integrated Assessment: theories of economic, social and environmental valuation, and methods for integrating the values into management decisions. Taught by economics, business, sociology, geography, environ. science and public admin. faculty.
SEE MORE: