Achievement
Course entitled "Research Methods in LEAP"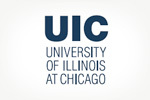 Project
LEAP: Landscape, Ecological and Anthropogenic Processes
University
University of Illinois at Chicago
(Chicago, IL)
PI
Research Achievements
Course entitled "Research Methods in LEAP"
A course offered to each LEAP cohort each spring semester is titled 'Research Methods in LEAP'. The course involves three-week modules taught by different LEAP faculty and includes a social science module, a molecular biology module, a modeling module, and a GIS/landscape analysis module. The pedagogical approach uses case studies and immersion of students in hands-on training and experience using different cutting-edge approaches to research in environmental science. The impact of the methods course emerged during this reporting period, evidenced by the number of individual student (dissertation) and team (capstone) projects that incorporate methods from this course that are outside the students' own discipline. For example, several capstone and dissertation projects in urban ecology have used survey methods to add a social science dimension to the projects. Nearly all projects to date have added a GIS/landscape component to their research.
SEE MORE: